Magical Irish Journeys
Connect with Ireland's mystical landscape
Take a step into an enchanting world, where the veil is thin, stir your creativity and feel renewed.
Private experiential visits to ancient sites.
Join Ciara on an inspirational journey in Ireland's west.
Visit locations in County Clare & County Limerick.
Visit hillforts, ruined templar castles, stone circles,  energetic sites, historical sites.
And as on all of our tours, you'll see the unspoiled hidden places few visitors ever see on other tours. You'll be delving into the sacred landscape into the ancient past of mystical hills, stone circles, passage tombs, holy wells, monastic ruins, castle ruins and archeological wonders.
The sacred sites in Ireland's ancient west have a wild energy about them. Some of the monastic sites are built on former pagan sites, and over the years the rituals of both cultures have melded together and a single spirituality is layered into the landscape. 
As we journey sites we see them from the exterior but we will also be journeying interally.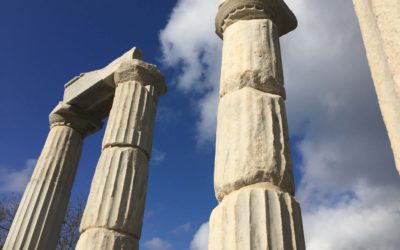 Coming soon.. the Conscious Guide to SamothraceSamothrace (pronounced Samothraki) is a well kept secret in the Aegean. Thankfully due to its lack of easily accessible fine sandy beaches, it has evaded mass tourism and this is one of its alluring calling cards. If you...